1Step DVD Copy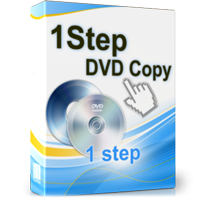 1Step DVD Copy is a flexible straightforward application for copying / ripping your DVDs to PC, iPod, iPhone, DivX and DVD formats.
With 1Step DVD Copy your possibilities are nearly countless.
Backup your entire DVD collection to PC for easy access to all of your movies at nearly the same quality and only 10% of original size! Copy DVD video to your iPod or iPhone and enjoy it anywhere.
Use the "Rip and Burn" function to create unprotected copies of you DVDs without forced intro videos.
1Step DVD Copy is a complete solution for ripping, copying and backing up DVDs. Backup all your DVD video to your PC or DVD disks. Copy DVDs to your portable media like iPod or iPhone or rip them to DivX format.



Key Benefits:





complete solution for DVD copying needs
copies both protected and unprotected DVDs
copies to PC, iPod, iPhone and DviX formats
perfect for backing up DVD movies to PC or DVD disks
near original video quality at only 10% of space
customizable video, audio, subtitle settings and more
copying just the movie, without forced intro video


1Step DVD Copy offers many settings and customizations enabling you to complete all your DVD copying / ripping tasks just the right way. You can chose the video track, audio track, subtitles track, output format and much more.

Keywords

remove DVD protection,
copy DVD to DivX,
DVD ripper,
copy protected DVD,
copy DVD to iPod
DVD to PC ripper,
lossless DVD ripper,
copy DVD to iPhone format,
DVD ripper with lots of settings,
DVD backup software