Backup, restore and manage media files on your iPod or iPhone with iBackuper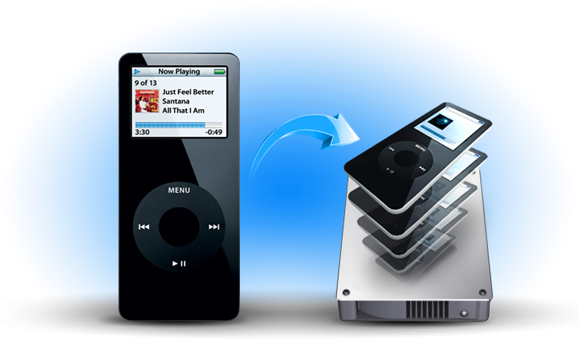 iBackuper is an awesome tool to make quick and secure full backup copies of your iPod (iPhone) and restore them easily! Never lose your music, videos, playlists or notes ever again!
With iBackuper you can easily:
Backup your device and store its snapshot on your computer, so you can always restore it!
Move your complete media library to another iPod (iPhone) without iTunes, making a full copy of your old device to a new one
Extract particular audio or video file(s) from your own or your friend's device to a hard drive
Copy audio/video files to an iPod without using iTunes
iBackuper supports the following devices:

iPod classic
iPod nano
iPod touch
iPod shuffle
iPhone 2G
iPhone 3G
iPhone 3GS

FREE!
Take control of your media! Be on the safe side.
It's easy and enjoyable when you have iBackuper!
Launch the program, select a name for your backup, and in a matter of minutes a full snapshot of your iPod (iPhone) is ready on your hard drive.
Copy your friend(s) device, dig out a jewel on your friend's iPod and transfer the awesomeness to your own device right now. Enjoy unlimited music and freedom. Backup your mood and music library and you can always enjoy it in the future!
If you have any questions, please do not hesitate to
contact our support
(support@ibackuper.com) for additional information.