SoundTaxi Media Suite 6-in-1 solution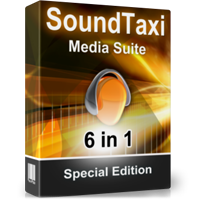 SoundTaxi Media Suite – is a complete solution that contains all 6 of our cool software products.
Media Suite will give you the power and functionality of the most complete editions of SoundTaxi, RipTiger, TuneGet, GetRadio, 1Step DVD Copy and Disc Burner. Â 
Convert protected or unprotected audio and video, download online video and TV, listen to and record internet radio, download free mp3s, copy / backup your DVDs, burn discs and much more!
Media Suite is now available for an incredibly low price - $59.99. You save 60% comparing to the price of all these fine products purchased separately.
Convert music from:

Download video from:

Listen to radio:

Classic Rock,
Pop,
Hip Hop,
R'n'B,
Jazz,
Instrumental,
Chillout,
Soundtrack,
Electronic,
Americana,
and others!

intuitive and easy to use
unprotect practically all DRM audio and video files
convert unprotected music and video
up to 50x conversion speed in batch mode
download just about any online video
revolutionary on-the-fly video recording technology
listen to 25,000 popular web radio stations
record tons of great music for free
an easy two-click solution to search and download free music
find music easily even when you don't remember the artist or title exactly
copy, rip and backup your DVDs and burn just about any kind of disc
convert DVD to iPod, iPhone, PC, DivX and other formats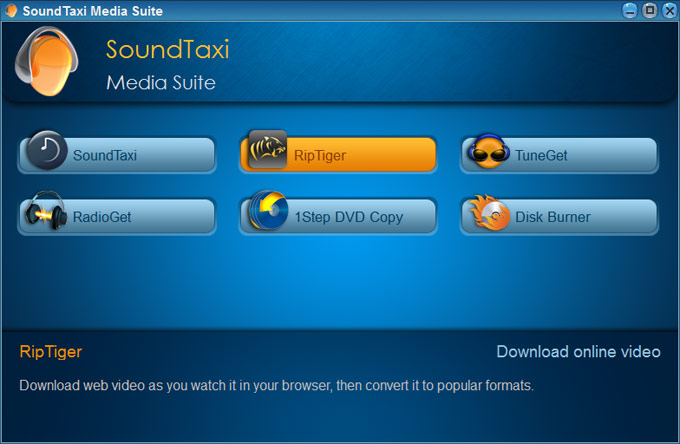 Keywords

unprotect DRM video and audio,
download online video,
download free music,
DVD ripper,
listen to web radio
record online radio to mp3,
convert video,
convert music,
convert DVD to DivX,
remove DRM protection