Media Buddy - Video Converter with ATI stream transcoding
Nowadays we are given a possibility to enjoy advantages of a great variety of video devices suitable for all occasions, allowing us to take pleasure in watching our favorite videos wherever and whenever we want. Modern portable video gadgets let us enjoy any kind of videos, be them TV shows, music videos, full-length movies, or any others with ultimate comfort and without sacrificing quality. However, those of us who have encountered a necessity of transferring video files between different devices have probably faced the problem of format incompatibility. The easiest and the most frequently used solution of it is video conversion, and currently one has a possibility to choose among the multitude of various software programs able to perform the task. With the help of a proper video converter you can convert almost any video file for your portable gadget such as iPhone, iPod, iPad, PSP, Zune, Android phone, Blackberry, and many others.
One of the most annoying problems about video conversion is its low speed, when it takes much longer to convert movie than to watch it. ATI Stream technology offers an efficient way to solve this problem, providing a possibility to perform video transcoding processes with significantly higher speed. The principle of ATI Stream operation consists in offloading processes usually run in CPU to GPU, thus considerably increasing performance capabilities. The following scheme provides a visual demonstration of the way it works: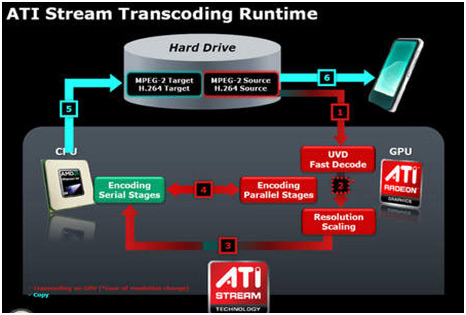 With the help of this technology video conversion can be hastened dramatically, allowing to save time for watching videos instead of wasting it for converting it. At the same time end users can take an advantage of ATI Stream technology only with the help of the respectively coded conversion application. Media Buddy is a potent video converter with a complete support of ATI Stream architecture, offering fast, easy, and reliable way to convert any video for any popular video device. As you can see from the following diagram, enabling ATI Stream during video conversion with Media Buddy significantly saves your time: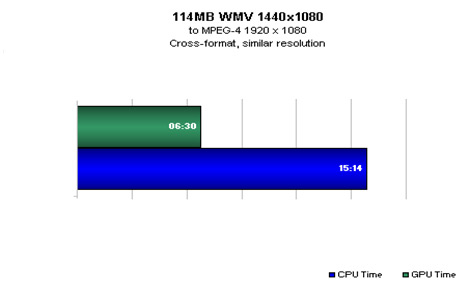 With Media Buddy you will convert your movies virtually in no time and at the same time obtain perfect output quality for flawless playback on your favorite portable device. This user-friendly software has handy and clear interface, allowing to perform any kind of video conversions with just a couple mouse clicks yet with perfect results. If you want to make the best of your ATI hardware for video conversion, Media Buddy will help you do that to the best advantage.
Keywords
convert WMA to MP3,
music converter,
convert video,
iPod converter,
CD quality audio converter
convert audio,
free CD ripper,
convert music,
convert audio to WAV,
convert audio in batch mode