Media Buddy - Video Converter with Intel CPU Optimization
Modern IT industry is developing by leaps and bounds, providing us with both hardware and software solutions aimed to facilitate our everyday routine and make it more comfortable. Nowadays we no longer need to be bound to our computers or TV sets to enjoy our favorite movies, music videos, or TV shows as we are given a possibility to take advantage of a wide variety of portable video devices ensuring high quality video playback anytime and anywhere. On the other hand, different devices have their own lists of supported video formats, and if your video file is not reckoned among them, you will not be able to play it back 'as is'. The most common way of coping with this problem is to convert video file to the format compatible with a particular video gadget. It can be achieved with the help of special video conversion software, but the most frustrating thing about it is that this process very often is very time-consuming.
A lot of people wonder why it takes an eternity to convert an ordinary movie while they have powerful computers with the latest hardware that is supposed to facilitate and hasten video conversion. The answer to this question lies in the correct choice of conversion software: to achieve best results with you potent Intel processor, you need to choose a program able to make the best of it. Media Buddy is a versatile video converter, perfectly optimized for working with Intel and Intel-compatible processors, providing a full support of the latest technological innovations in the field of video transcoding. The following chart shows how Media Buddy saves your time during video conversion: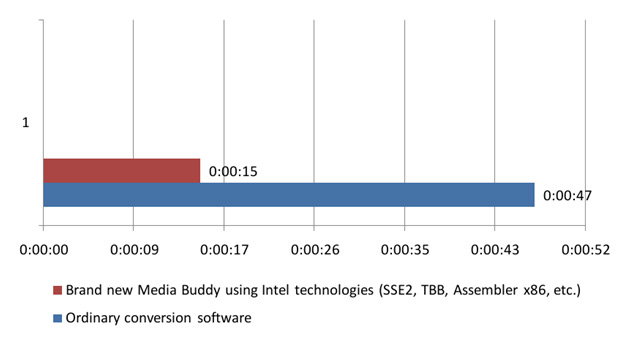 With the help of Media Buddy you will be able to take a full advantage of Intel graphic technologies, such as Intel HD Graphics, that allows HD video conversion with best possible quality and extremely high speed. Due to the support of DirectX Video Acceleration (DXVA), which accelerates video decoding on the hardware basis allowing to offload CPU-intensive processes to GPU, Media Buddy dramatically shorten the time needed for conversion, saving it for enjoying the converted video instead. Media Buddy is perfectly optimized for multi-core Intel processors, allowing to leverage the full power of the CPU by executing several threads simultaneously.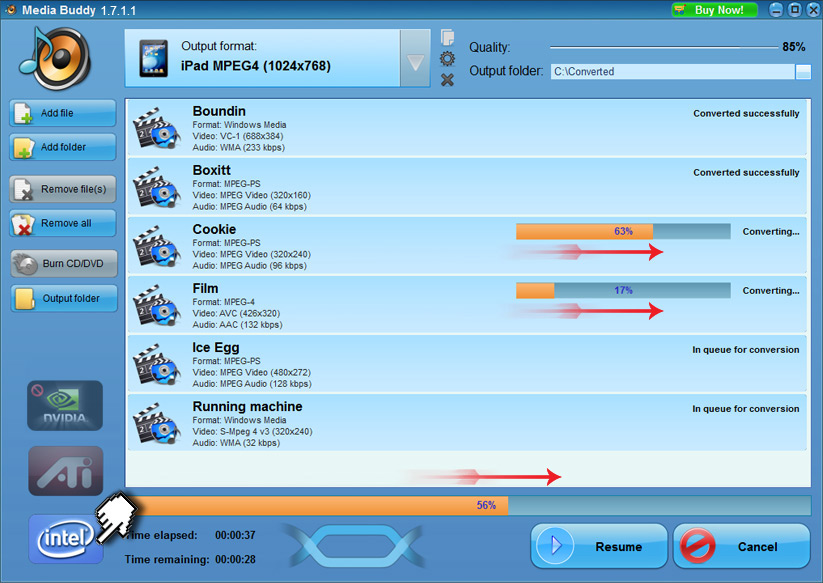 Owing to perfect Intel optimization Media Buddy allows to set in motion high performance capabilities of your hardware, providing a possibility to convert video files practically in no time. Combined with intuitive and user-friendly interface it makes Media Buddy a perfect choice for those who value their time and want to be able to watch their favorite videos with no limitations on any portable video device.
Keywords
convert WMA to MP3,
music converter,
convert video,
iPod converter,
CD quality audio converter
convert audio,
free CD ripper,
convert music,
convert audio to WAV,
convert audio in batch mode