Media Buddy - Video Converter with NVidia CUDA Optimization
Rapid technological development provides us with more and more devices able to ensure high quality video playback with every passing day. Modern portable video gadgets of all sorts and kinds give their users a possibility to enjoy their favorite movies or TV shows at any time and at any place with no limitations. This great variety of video devices inevitably results in the respective variety of different video formats, suitable for one yet inappropriate for other gadget. For this reason video conversion has become indispensable part of an everyday life of all film buffs who want to watch favorite videos on their iPods, iPads, PSPs, smartphones, and many others devices with video playback feature
Ideally video conversion should take minimum time and effort and at the same time provide quality output results. Yet in practice we often face the fact that conversion of an average two-hour movie can take us two or even three times as much as its actual duration is. This can be extremely annoying, especially when you are in a hurry. This problem can be solved with the help of the latest technological innovations in the IT industry. NVidia's Compute Unified Device Architecture, aka CUDA, implemented in their latest video cards, among other things allows significantly increase video conversion performance using the power of the card's GPU. Advantages of the CUDA performance can be seen from the following chart: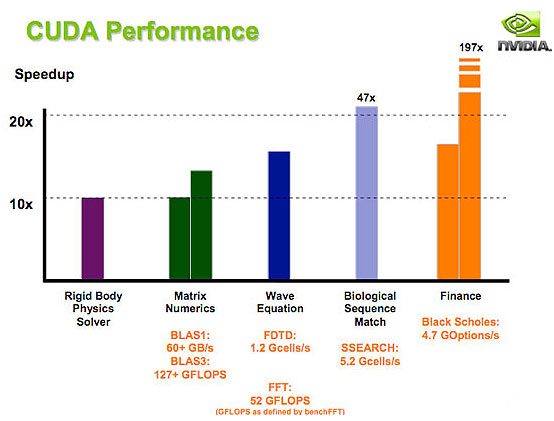 But even users with powerful computers and appropriate hardware can face the above-mentioned troubles with video conversion if the conversion software they are using doesn't let them use their high performance capabilities at full scale. If you are lucky to have NVidia video card, you will need to use a proper video converter to harness its resource to the maximum degree possible. Media Buddy is versatile video conversion software with NVidia CUDA optimization, allowing you to convert any kinds of video files with the highest possible speed.
The following chart is the graphic demonstration of how much time you can save if you use Media Buddy to convert your videos on a PC with NVidia video card:
Media Buddy is extremely easy to use and provides a support for all popular video formats, therefore it can be used to convert video files for any portable device in record time with minimum effort. If you want to convert any video with perfect quality and virtually in no time, Media Buddy with NVidia CUDA optimization will be your perfect assistant.
Keywords
convert WMA to MP3,
music converter,
convert video,
iPod converter,
CD quality audio converter
convert audio,
free CD ripper,
convert music,
convert audio to WAV,
convert audio in batch mode