Download YouTube videos using RipTiger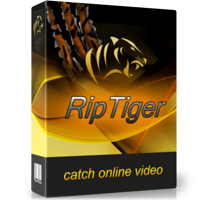 RipTiger is a must have program for downloading and converting web video. Most of the online video websites store videos in the FLV format. Even when downloaded, your computers can't playback these files by default. RipTiger provides you with ability to convert each downloaded video into one of the popular formats for flawless playback. RipTiger supports AVI, MPEG1, MPEG2, WMV, FLV, MP4, 3GP, MP3 file formats, that will work not only on PC, but also on your iPod Video, iPhone, Zune, PSP, mobile phones or any other portable device. Additionally you can customize video/audio quality, video frame rate, width / height and audio sampling rate.




Which websites does RipTiger support?
FULL LIST
Most of the popular streaming and file formats are supported:
Flash Video (HTTP and RTMP),
Windows Media (HTTP, MMS and RTSP)
Real Audio and Real Video (HTTP and RTSP)
MPEG
QuickTime
Streaming MP3 (Shoutcast)

No other software can download as many formats as RipTiger does.
With RipTiger's new Flash recording technology, no other software can capture as much as RipTiger does.
Highest Capturing Quality
RipTiger downloads compressed and high definition video from the web, saving its exact high quality copy to your hard drive.

Advanced Features
Turbo Capturing - record video stream with up 10x  speed
Capture videos without commercials
Automatic Capturing
Capture at the highest quality
Capture multiple and many more...
Runner's World Watch videos dedicated to fitness and the sport of running (http://www.runnersworld.com/video)
Publix Apron Good source for recipe videos (http://www.publix.com/aprons/meals/RecipeVideos.do)
MovieKase browse media, American movies (http://moviekase.com)
Cast TV Watch the most popular Viral Videos, Movie Trailers, and TV Episodes (http://www.casttv.com)
BeetMedicine TV Learn about medicine through interviews with some of the nation's most prominent physicians (http://www.beetmedicine.tv)